Dr. Ifeanyi Chukwunonso Okeke's professional journey includes vital roles in public and private institutions, where he has excelled as a Tax Executive, Financial Consultant, and Tax Manager.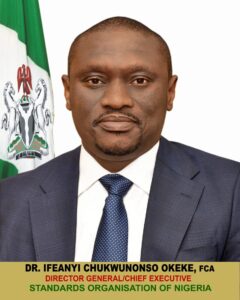 Notably, he served as the Interim Chairman and Chief Executive Officer of the Imo State Internal Revenue Service, leading a team that significantly increased internally generated revenue from 700 million naira to over 2 billion naira monthly.
He has also served as a branch Business Head in a top International Financial Institution with a background operating as a Top Management Officer in public and private Institutions. Throughout his career, He has demonstrated exceptional skills in leadership, negotiation, budgeting, and credit analysis.
As the Director General, he will be responsible for running the organization's day-to-day administration empowered by the Council's directives. His responsibilities extend to advising the Council in formulating, implementing, and reviewing national policies on standardization, quality control, and metrology. He will be crucial in coordinating the activities of Directors, initiating investigations, and representing the Organization at national and international levels.
His appointment as Director General brings a seasoned professional with a track record of transformative leadership. His commitment to excellence, financial acumen, and strategic vision make him a valuable addition to SON as we strive for excellence in our mission and objectives.