The Director General (DG) of the Standards Organisation of Nigeria (SON), Mallam Farouk Salim, in the company of SON Management, played host to the delegation from the National Biosafety Management Agency (NBMA) on a courtesy visit to the Corporate Headquarters of the Organisation in Abuja.
The NBMA team led by the Chief Executive Officer (CEO), Dr. Mrs. Yemisi Asagbra, expressed pleasure for the opportunity to meet with the SON Boss and his Management Team while stating the purpose of their visit as a move to revive the existing relationship as well as call for a revisit of the 2017 Memorandum of Understanding (MOU) between both Organizations.
She added that looking into the primary functions of the NBMA and being privy to certain information working alongside SON in various Technical Committees, it has become imperative to take this action for increased synergy as well as improve on the existing partnership to develop effective collaborations that will be beneficial to achieving the mandate of both Organizations.
In his response, Mallam Salim congratulated the CEO on her appointment and commended the leadership of the NBMA for hitting the ground running to achieve the mandates of regulation and also ensuring the safety of Genetically Modified Organisms (GMOs), among other things the agency regulates which aligns with the mandate of the SON to improve life through standardization and quality assurance.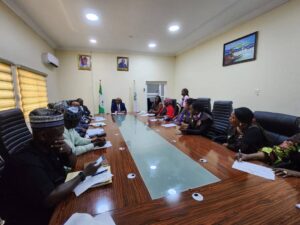 The SON Boss assured the NBMA delegation that the collaboration sought will be strengthened and agreed to work in conjunction to have a Joint Technical Committee to look into issues of Standards regarding the import of GMOs into the country.
On the MOU that existed in the past, Mallam Salim agreed there was a need to rework the document by appointing Officers from the Legal Department of SON as well as that of the Biosafety Agency to iron out grey areas of conflicts as well as inputs that will bring improvement and growth of not just the two Organisations but the Nation as a whole.