In order to attain professionalism as well as enhance knowledge and skills about laboratory procedures, the Standards Organisation of Nigeria (SON) recently organized a capacity-building program for its laboratory analysts at the SON Laboratory Complex in Ogba, Lagos, Nigeria.
In his opening remarks, the Director General (DG), Mallam Farouk Salim, noted that the program stemmed from the last audit carried out by Bloom Public Health upon assessment of the laboratory, emphasizing.
the need to ensure that the laboratory is not just fully furnished but well equipped with Analysts with the necessary skill for effectiveness in their day-to-day activities.
According to the DG, this training which is the first of its kind is designed with courses to deal with the theoretical as well as hands-on practical training on the machines they use daily with various test methods peculiar to the machine like the High Power Liquid Chromatography (HPLC) Glass Chromatography Mass (GCMS), Spectrophotometer amongst others which are relevant in most fields of training.
Salim also charged the beneficiaries to make the best use of this opportunity being made available to them to acquire the knowledge needed to profer solutions to their deepest challenges in regards test methods on machine learning while focusing on the most important thing being the "residual knowledge" that would be impacted on them" to enable them to carry out laboratory procedures with utmost effectiveness and efficiency.
The SON helmsman commended the personnel training the staff. He tasked him to ensure the best training is delivered while noting that if in the cause of this training, any further observation is picked up, they should not hesitate to draw his attention to their concerns.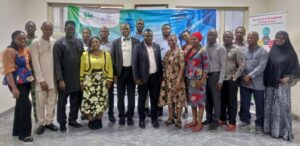 Responding to the DG's remarks, the Managing Director (MD) of Bloom Public Health, Dr. Chimezie Anyakora, appreciated the DG and management of SON for the opportunity to participate in this nation-building exercise while making known that their organization Bloom Public Health is well known with seasoned staff possessing the right level of skill and professionalism in the country and have been deployed to carry out the exercise to train analysts on this chromatography methods have identified the gaps and challenges with recommended solutions to tackle them.
He encouraged the participants to ask questions without hesitation, and to draw the attention of their facilitators at any point for clarity.
Anyakora stated that his organization is looking forward to further collaboration with the Standards Organisation of Nigeria.